Hi!  I'm Lulu. 
Creator & Founder of Lulu's Garden™
Learn how Lulu Bodmer, of Lulu's Garden, launched a thriving home business from the all-natural products she created. In this interview, Lulu shares her tips, experiences, and advice to anyone looking to start a product based business from home. There is also opportunity to partner with her company. Make extra money at home and become a Lulu's Gardener.
What is unique
about Lulu's natural handmade lip balms is that Lulu has incorporated aromatherapy into each balm, which will allow your customers to experience the softening benefits that will nourish & moisturize while providing the gentle aromatherapy properties that accompany each blend. The price point offers affordability while offering our partners a generous cost structure with high-profit potential for anyone who would like to be their own boss, have fun, be social and have the freedom to work from home. And since this is not a franchise, all the profits are yours to keep! I am here to work with you to make your entrepreneurial dreams a reality. Work part-time, full-time, or sometime. It's your comfort.
What are the Benefits of Selling Lulu's Garden?
Affordable. 
♥ Low Start -Up Cost
♥ Turn – Key Business
♥ High Return on Your Investment
♥ Start Right Away
♥ Set up in 10 Minutes
♥ Small Footprint
♥ Be Social. Make Money.
♥ Go into Business for Yourself – Not By Yourself
♥ Ongoing Support from Lulu
♥ Minimal Risk
Hip.
♥ National Award Winning Display
♥ Named as One Of Top Home Businesses By StartupNation
♥ Included in the MTV Movie Award Gift Bags
♥ Included in Teen Model Gift Bags
♥ As Seen in Down East Magazine Best Of Maine
Earthy.
♥ Natural Handmade Product
♥ Mom Inspired
♥ Gluten, Paraben & Sulfate Free
♥ Aromatherapy Infused into each Product
♥ Woman Founded & Owned
♥ Personal Growth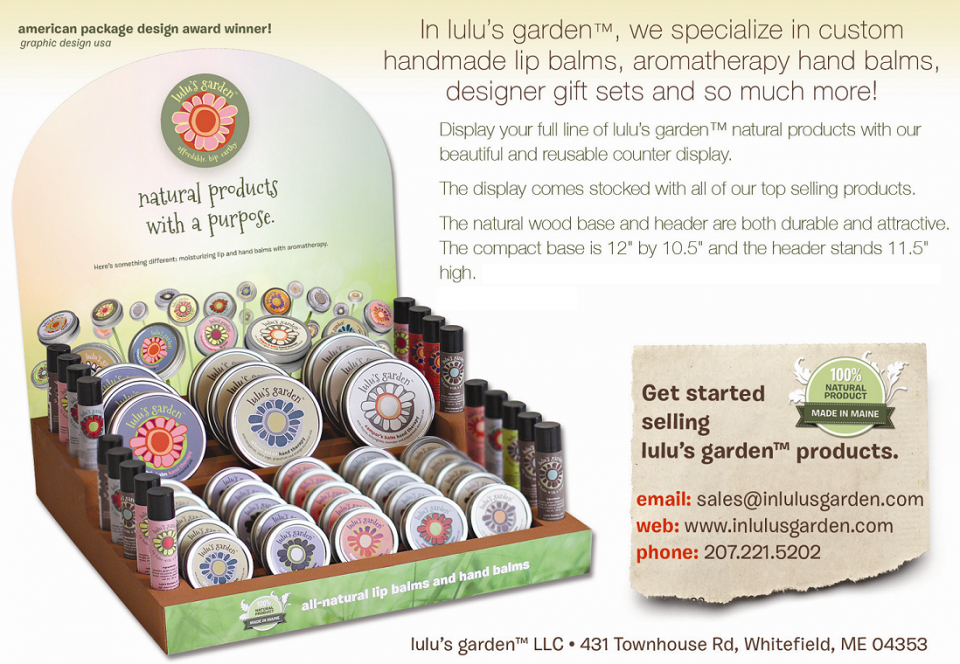 Yoga & Wellness Fairs
Farmer's Markets
Festivals
Fairs
Craft Shows
Wedding Shows
Flea Markets
Fundraisers
Home Parties
Home Shows
Mall Carts & Kiosks
Mystic Fairs
Display Package Includes
Lulu's Garden™ Award Winning Point of Purchase Display
60 Pieces
25 smudge pot aromatherapy lip balms,18 lulu lip balm tubes,
9 hand therapy tins
5 full-size smudge pot testers that mirror the display contents
3 full-size hand therapy testers that mirror the display contents
Catalog PDF
Product Card PDF
Price List| Order Form PDF
Banner PDF
Protected Territory typically between 30-100 miles, depending on the population
Bio & Contact Information on Company Website
On-Going Support
Exclusive Business Contract Between Partner and Lulu's Garden™
Valued at $834 for all components.



 The Cost Model is Simple.
Order number 1 is all inclusive of the items listed above in the display package. There are no quotas, monthly obligations or hidden fees, your path to success is your initiative. You are purchasing your kit at a wholesale cost and selling the products at a retail price. You keep the profits! By the 7th restock kit order, you will earn a 15% commission on every kit ordered for the duration of your ownership. That's 110% back on your investment and my way of saying thank you for being a great partner! On top of your kit sales, any individual retail orders that come through on the Lulu's Garden™ website with your individual consultant code will earn you a 15% commission on the total amount minus shipping.
Restocking Kit for Lulu's Garden $150.00 plus shipping
Wholesale lip balm – Restocking consultant kit for Lulu's Garden™ display (display not included on restock). If you run low on products, restocking is a snap! A standard restocking consultant kit is available for our lip balm and hand balm. We will also create a customized kit featuring the products that sell the best for you. Lulu's Garden™ lip balm and hand balm restocking kit will include 25 smudge pot aromatherapy lip balms, 18 lulu lip balm tubes & 9 hand therapy tins.
I want to share the
♥

lulu love

♥

with you!
Empowering

YOU

to become your own business owner in a fun, easy, affordable way.

Let me help you build your own Lulu's Garden™ Business. This new and exciting opportunity only has a limited number of spaces and will be available to a select few. Are you the next awesome entrepreneur? Let me know that you want to be a lulu's gardener!  I can't wait to hear from you.  Click here ► Contact me! 

xoxo,